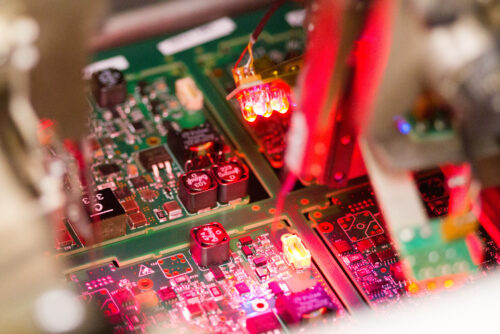 Technologies can fall into many different categories, the trick is to ensure you keep ahead, or at least up with it. With well over a 100 years of combined experience Jalteks' R&D teams have everything covered, for you.
PCB Technologies
Single-Sided
Double-Sided
Doubler-Sided Plated Thru hole
Multi-layer (up-to 28 layers)
Micro-Via Multi-layer (up-to 16 layers)
Flexible
Aluminium Backed
Flex-Rigid
Combinations of the above
Component Technologies
Chip-on-Board (COB)
Surface Mount (SMT)
Plated Thru Hole (PTH)
Buried Resistors & Capacitors
Via Technologies
Plated Thru hole (Conventional)
Blind Via
Buried Via
Micro-Via (uVia)
Stacked Micro-Via
Staggered Micro-Via
Material Technologies
PCB Materials classification according to reinforced materials (most common):
Paper board – FR-1, FR-2 (Phenolic Cotton Paper), FR-3 (cotton paper and epoxy)
Epoxy Glass Cloth – FR-4 (Woven Glass and Epoxy), FR-5 (Woven Glass and Epoxy)
Composite board – CEM-1 (Cotton Paper and Epoxy), CEM-3 (Non-woven Glass and Epoxy)
HDI board (RCC – Resin Coated Copper)
Special board (metal board, ceramic board, etc
PCB Materials classification according to types of resin:
Epoxy resin
Polyester resin
PI resin (polyimide)
PCB Base Material classification according to flame retardant properties:
Flame retardant (UL94-VO, UL94-V1)
Non-flame retardant (UL94-HB level)
Material for the base of a Printed Circuit Board is selected based on PCB design and application. Not every PCB Material is suitable for all applications.
Circuit technologies
Analogue
Digital
High Speed (HS)
High Current (HI)
High Voltage (HV)
High Power (HP)
Radio Frequency (R.F.)
Intrinsically Safe
Impedance Controlled
Whatever your challenges are, Jalteks' R&D team are equipped to solve them with you.